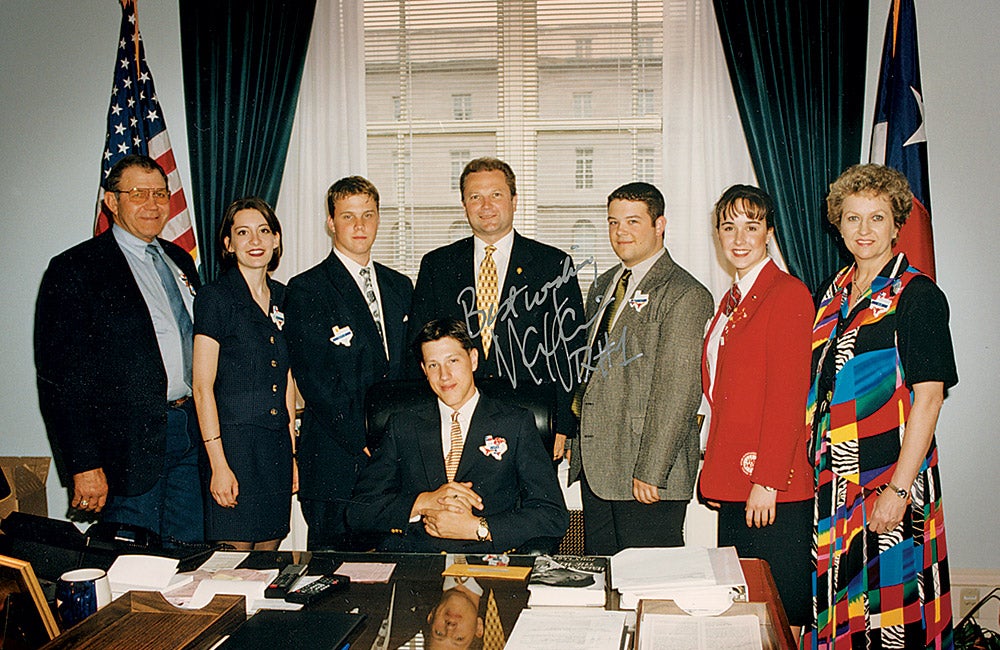 A 50-Year History of Texas Youth Tour
By Suzanne Halko | June 1, 2015
Fifty years ago, teenager Ethel (Mabry) Ellison from the Texas Panhandle saw President Lyndon B. Johnson up close at the U.S. capital. Her early trip to Washington, D.C., inspired a lifetime of travel.
In 1970, young M. Ray Perryman from East Texas walked spellbound through the National Gallery of Art on the National Mall. He since has visited almost every major art museum in the world.
A decade later, 15-year-old Carrie Campbell from Central Texas witnessed oral arguments in the U.S. Supreme Court. She grew up to become a lawyer.
In 1991, Kristin (Bason) Sargent from North Texas beheld the Lincoln Memorial with inspiration and hope. She later pursued a degree in government and history.
In 2008, Daniel Sanders from south Central Texas represented the state on a nationwide youth advisory board, which exposed him to the needs of people living in developing nations. Today, he's helping build Haiti's first electric co-op.
Three years later, Annie McGinnis from far North Texas explored Old Town Alexandria, absorbing the bustle of shops and restaurants. She's now studying recreation and tourism.
These Texans—and thousands more like them from 1965 to today—participated in an ongoing annual youth program that yields life-changing results. They are among the 3,719 Texas participants of the Government-in-Action Youth Tour, which celebrates its 50th anniversary in 2015. The program started after then-Sen. Lyndon B. Johnson, an advocate of electric co-ops, suggested sending youths to Washington.
Sponsored by electric cooperatives in Texas and 42 other states, the Youth Tour program sends teenagers who have won their local co-op contest on a supervised trip to Washington to be immersed in U.S. government, history and culture.
On what has been described as the trip of a lifetime, students see more of the capital in a few days than is possible for the average tourist. Careful planning allows the young visitors to meet their congressional representatives. And on more than one occasion over the life of the program, Youth Tour participants have seen the president.
"It's seeing your government in action. It's bringing your history book to life. It's the embodiment of the national fabric that made this country great," says Dennis Engelke, Texas Electric Cooperative's former Youth Tour coordinator for 25 years. "You get a deeper appreciation for being in America and a deeper appreciation for freedom and sacrifice."
The Magic of Youth Tour
These experiences have transformative powers, as the youths return home changed. "When they come back, they come back matured," says Esther Dominguez, TEC's Youth Tour coordinator. "It's magic."
That maturation manifests right away. Youth Tour parent Alea Peña says daughter Madeline, who went on the 2013 trip, discovered "confidence that she never knew she had."
Lessons from Youth Tour also helped youths understand how national events affected their families. At the Vietnam Veterans Memorial, one young woman realized the scope of the war in which her father served and why he returned altered. She wrote a poem with the message, "Daddy, tonight I understand."
The outcomes of Youth Tour are also long lasting. The trip often inspires educational and career choices, the desire to travel, an appreciation for electric cooperatives and, in some cases, love. Several pairs of Youth Tour participants got married. More than one attendee has been elected to Congress or to the Texas Legislature. Many return to serve their home communities or work at their local electric cooperatives.
"You're planting a seed at a time when teenagers are at the most vulnerable growth period," Engelke says. "You're cultivating civic pride, and it carries on as they grow up to be adults, and that is a result of the Youth Tour program."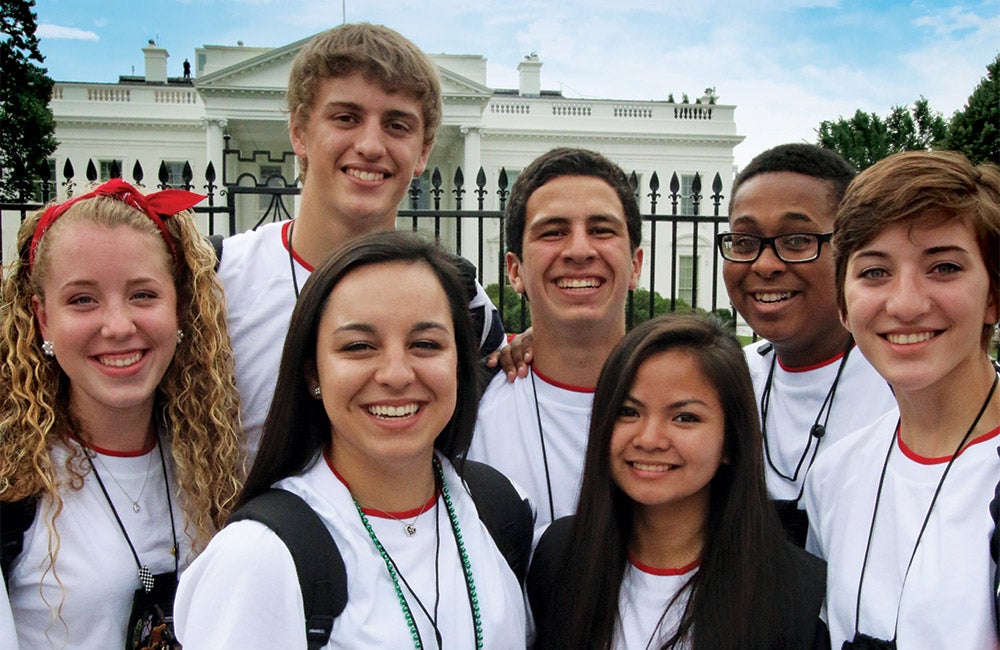 From Buses to Airplanes
Although core elements of the Youth Tour program have remained intact over its 50 years, parts of the program have transformed, just like the youngsters. Involvement has more than doubled while costs covered by co-ops have increased. On the first Texas Youth Tour in 1965, 27 co-ops paid about $100 per youth. This June, 125 students are scheduled to attend at a cost of $2,500 each, an expense still completely covered by the sponsoring cooperative. TEC and other sponsors provide money—a total of more than $30,000 in 2015—for T-shirts, meals, backpacks and more.
Transportation methods have also changed. During the first 40 years or so of the Texas Youth Tour, students traveled by bus from Dallas to Washington. The six days on the road eating, sleeping and singing forged deep bonds. "When I asked the teens during our last night together what they enjoyed the most about the tour—almost without exception—[they'd say] the bus ride!" Engelke says.
The bus rides also allowed participants to experience more of the country's places, events and circumstances. In the 1960s, Ellison first encountered segregation in the Deep South when a restaurant refused to serve one of her peers, an African-American. In 1976, the nation's bicentennial, the group made an excursion to Jamestown and Williamsburg, Virginia. In 1982, the itinerary included a stop in Knoxville, Tennessee, to attend the World's Fair.
More recently, students fly to Arlington, Virginia, on what's often a young person's first flight. And this year, for the first time in Texas Youth Tour history, the state delegation departs from Austin after a tour of state governmental and historic sites.
The intense schedule, barrage of "firsts" and distance from family create deep ties among the students, as they find solidarity in the shared experience. "The bonding among the youths is phenomenal," Engelke says. "Many of the youths said they made stronger friendships during the [then-] 12-day trip than they have with friends they have attended school with for 12 years."
Amid all these grown-up-style activities and responsibilities, Texas Youth Tour participants also get the chance to play. The teenagers have dinner and a dance on a Potomac River boat cruise. And during a talent competition dubbed "Youth Tour Idol," students perform for a chance to win cash prizes. Even winning Youth Tour Idol can lead to more opportunities. Peña placed in the 2013 competition for her vocals and was invited to open the 2014 TEC Annual Meeting in Galveston with the national anthem.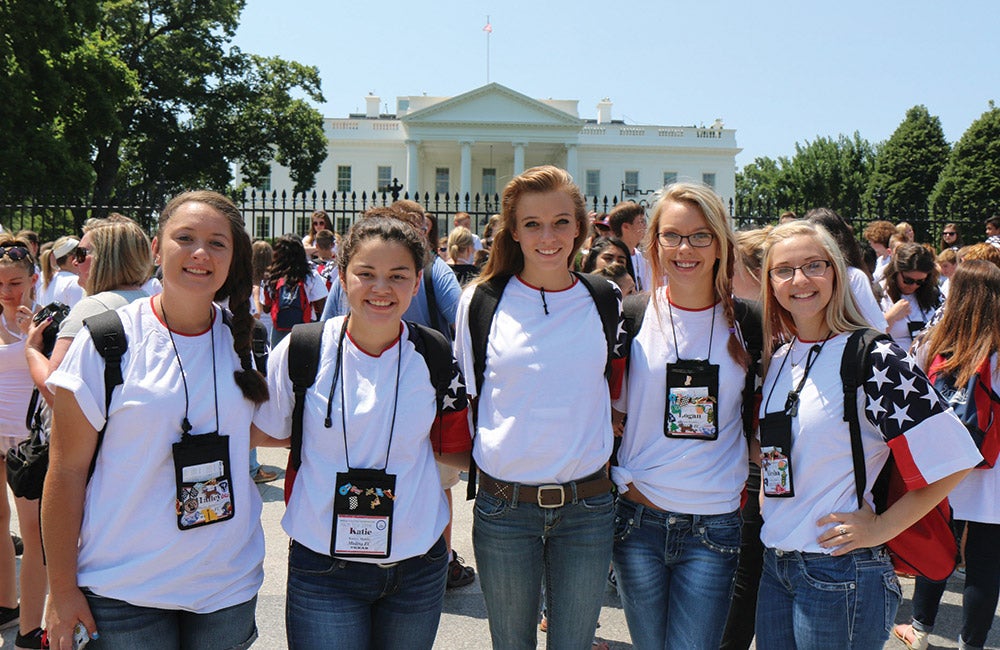 A Step in Life's Journey
The journey with electric cooperatives continues for one exceptional Texas youth serving on the Youth Leadership Council. In 1976, the National Rural Electric Cooperative Association formed the council to advise the NRECA and local co-ops about youth activities and relay information on industry issues, according to a 1978 Rural Electrification magazine article.
Texas teen Clint Cook from Aspermont, an area now served by South Plains Electric Cooperative, became the board's 1977–78 president. In an address, excerpted in Rural Electrification magazine, Cook said: "I am here because someone cares, and that someone is you. It is the rural electric cooperatives who have afforded me the opportunity to see my nation's heritage; not in a book, but with my eyes, in Washington, D.C."
Michaela Gardner is Texas' 2014–15 representative to the YLC. She holds similar awe for Youth Tour and credits her sponsoring co-op, Houston County EC, for making her trip possible. "Pretty much the whole trip was a whole new experience," Gardner says. "It was a breath of fresh air. I was around all these kids who all excel."
After Youth Tour, Gardner returned to Washington for a leadership conference and attended the NRECA's February annual meeting in Orlando. On June 10 in Austin, she's scheduled to speak at the 2015 Texas Youth Tour anniversary celebration and reunion at the Sheraton Austin Hotel.
The last Texas Youth Tour Reunion was in 1985. The event commemorated the 50th anniversary of the Rural Electrification Act and the 20th anniversary of the Texas Youth Tour. About 150 Youth Tour alumni attended the Austin ceremony. "How long has it been since you last had contact with a fellow Youth Tourer?" wrote Engelke in the 1985 reunion invitation. "Well, that's too long!"
And that was 30 years ago. Since then, generations of new participants have experienced this trip of a lifetime for the opportunity to, as Gardner says, get a glimpse of "all the amazing things in the world that I have yet to find."