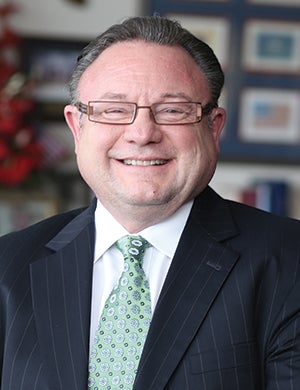 Economist Cites Youth Tour as Important Milestone
M. Ray Perryman | Wood County EC, 1970
By Sheryl Smith-Rodgers | June 1, 2015
As an economist, M. Ray Perryman, 62, travels extensively, helping large companies around the globe deal with complex issues in innovative ways through his Waco-based firm, The Perryman Group.
Quiet and shy, Perryman, a high school junior from the small East Texas town of Lindale, won a speech contest held by Wood County Electric Cooperative. The award earned him a trip to Washington, D.C., on the 1970 Youth Tour.
"Seeing Washington for the first time was more impressive and grand than I had ever envisioned," Perryman says. "Now I travel to Washington routinely, but I still never fail to be amazed by the city's grandeur."
While on the Youth Tour, Perryman met his U.S. congressman, the late Herbert Ray Roberts. Perryman remembers sitting in the gallery of the House of Representatives while the elected officials debated whether to give 18-year-olds the right to vote.
He also saw the nation's founding documents. He says he literally felt chills upon seeing the signed Declaration of Independence and Constitution at the National Archives Museum.
"But our visit to the National Gallery of Art was the ultimate highlight," Perryman says. "I had expected to be just another bored teenager being dragged somewhere. But I was completely captivated by the artwork I saw painted by the Dutch masters, impressionists and more. I walked out totally hooked for life! I now have an art collection of my own and have visited nearly every major art museum in the world."
A quirky decision led to his successful career. "I was from a small high school and had no idea what an economist was," Perryman explains, "not until [I took] my first economics course at Baylor University after I flipped a coin to choose between economics and psychology."
He went on to earn a doctorate in economics from Rice University. His higher education coupled with what he learned on Youth Tour gave Perryman a deeper understanding and appreciation for government. "I have led a very rewarding and blessed life," he says, "and the Youth Tour was an important early milestone on the journey."