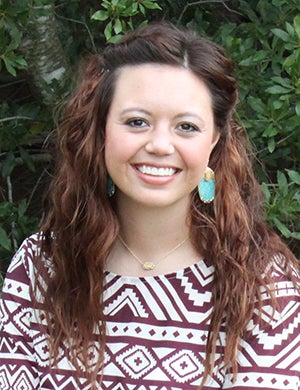 Repeat Alumna Captures Memories, Hearts
Annie McGinnis | Grayson-Collin EC, 2011
By Sheryl Smith-Rodgers | June 1, 2015
Her mother cried when Annie McGinnis, then 15 and a bit scared, waved goodbye at the Dallas hotel. The 2011 Youth Tour was McGinnis' first-ever solo trip away from her home in Van Alstyne.
"I was so shy because I'd been raised in a small town and had the same friends all my life," she recalls. "But my three roommates welcomed me right away, and I quickly learned during the tour to open up and talk to people."
Now 19, McGinnis studies recreation, park and tourism sciences at Texas A&M University. Since 2012, she's served as the Youth Tour photographer for the Texas Youth Tour. McGinnis initially proposed the idea to Esther Dominguez, Texas Electric Cooperatives Youth Tour coordinator, after returning from her 2011 trip.
Four tours later, McGinnis has turned into an ace photographer. "She just gets better and better," Dominguez says. "Annie knows exactly what we're looking for and what I need. She knows where to go to get the pictures. Now she just totally does it on her own."
What's more, McGinnis assists with TEC's annual meetings, inspiring Dominguez to call McGinnis her sidekick. "Working with Esther has inspired me to want to be an event coordinator," McGinnis says.
Likewise, McGinnis strives to inspire others. "Before I got to go, our co-op had to ask students to apply for the Youth Tour," says McGinnis, who was sponsored by Grayson-Collin Electric Cooperative.
"At the 2011 annual meeting in August, I thanked everyone and shared about my experiences on the Youth Tour. The next year, they had nine applicants, and more the next year. In 2013, Grayson-Collin started sending two students instead of one."
Even though the 2015 Youth Tour will be her fifth, McGinnis still can't wait to go. "Yes, we'll see all the same places, but it's the people who make the experience so rich," she says. "Every year, I'm just as excited to be a part of the tour so I can watch the relationships and friendships that form. I love being there on the sidelines with my camera, capturing all the memories."