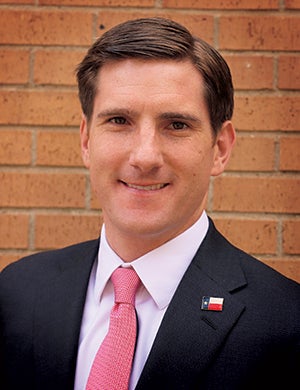 Witnessing Government in Action Sparks Will To Serve
Rep. Brooks Landgraf | Rio Grande EC, 1998
By Chris Burrows | June 1, 2016
Seventeen years after Brooks Landgraf visited the Capitol Hill office of his U.S. representative while on Youth Tour and became enamored with public service, he stood before the 84th Texas Legislature to present House Resolution 2553. The motion recognized 50 years of Texas electric cooperatives' participation in Youth Tour.
"I'm proud to say I'm one of them," he told his fellow lawmakers on May 20, 2015, as he presented the resolution. "In fact, that was one of my first experiences with public service."
A native of the Odessa area served by Rio Grande EC, Landgraf entered the co-op essay contest during his junior year at Permian High School and won a spot on the tour. He says he was fascinated by the trip to Washington, D.C., which helped push him toward a career in politics.
"Youth Tour was one of the first opportunities for me as a young kid from rural Texas to experience the functions of government and how government should be responsive to the needs of the people it serves," he says.
Landgraf attended Texas A&M University and obtained his law degree from St. Mary's University in San Antonio. Since then, he's worked as a West Texas attorney and has served as the state representative for District 81 since 2014.
"The most rewarding part of the job is being able to serve a state and a region that has provided so much opportunity for me over the years," he says.
Long before he was meeting with voters as a state figure, young Landgraf was on Youth Tour meeting peers from across Texas and U.S. Rep. Larry Combest.
"I enjoyed making friends with kids from across the state but also getting to learn about rural electrification issues through the lens of government," he says.