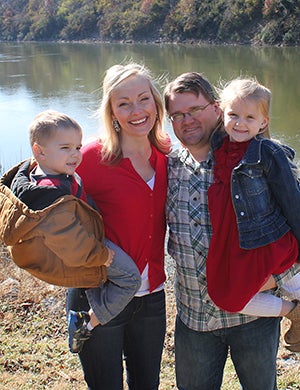 Trip Changes Lives in Unexpected Ways
By Suzanne Halko | June 1, 2016
Nearly everyone falls in love with the Government-in-Action Youth Tour, but falling in love because of it also happens every once upon a time.
Finding love is not the intended purpose behind attending the cooperative-sponsored Youth Tour; instead, the program is designed to expose high school students to the wonders of Washington, D.C. The adventure can be life-changing, often inspiring education and career choices. For these three couples, Youth Tour changed their lives ever after.
Youth tour changed the life of Ryan Franklin in a way he didn't expect when Navasota Valley Electric Cooperative sent him to Washington in 2000.
Then a high school senior from Donie, Ryan describes the trip as his "Mr. Smith Goes to Washington moment," referring to the 1939 movie about a naïve man appointed to the U.S. Senate. Ryan says Youth Tour made him realize how big the world was and gave him a deeper connection to U.S. heritage.
"I certainly never would have imagined at that time that I would meet my wife there," he says.
Ryan didn't even imagine it when he met the girl who would become his wife. He says he didn't know what to think of Ashley Irwin from Canyon, sponsored by Swisher EC, and she was just as disinterested.
"It was total repulsion," Ashley says of their first encounters. "He was very shy, and he had this real thick East Texas accent … I thought he was kind of a hick, and he thought I was snobby."
Still, because they both planned to attend West Texas A&M University that fall, Ashley gave Ryan her contact information so they could connect in college. He never called.
At the university, however, Ryan's and Ashley's common interests put them in the same classes and extracurricular activities. Their constant interaction combined with their shared experience of Youth Tour helped them become good friends until, "It just switched over," Ashley says, "and we didn't want to be apart."
They were married in 2004 and remained together in every- thing they did afterward, pursuing graduate studies at Baylor University and starting a family.
Youth Tour "opened the door to us being friends, becoming more than friends and getting married, and now we have kiddos [Eva, 6, and Nolan, 4]," Ryan says, "and it was really kind of powerful in that way."
Ryan is the associate commissioner for educator leadership and quality at the Texas Education Agency; Ashley is an appellate attorney who is taking a break from practicing law to raise their children.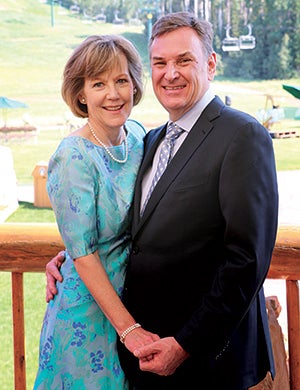 Cathie Parsley and Gary Fuchs went on Youth Tour in 1975 but didn't meet for another 16 years. From Shallowater, Cathie earned South Plains EC's sponsorship by winning a speech contest.
"Having to give a speech, as we did for my experience with the competition, gave me confidence about speaking in front of people. I could do it and be reasonably decent at it," she says. "And it came to serve me very well in the career that I chose, which is law."
Cathie graduated from law school at Texas Tech University in 1981 and followed her career to the Texas Legislature, where she worked for a senator during the 1991 session. There, she met and started dating Gary.
One night, as they pored over photos Gary took in high school, a picture of President Gerald Ford in the White House Rose Garden caught Cathie's eye. She recognized the distinctive tie Ford was wearing that day.
"It turns out Gary had been in the Rose Garden in the same gathering that I had for Youth Tour," she says. Gary also went on Youth Tour in 1975, sponsored by Choptank EC in his home state of Maryland. Because Youth Tour is a nationwide program, students from all over the country attended that same event.
"All those years later, we recognized that we had been at the same place at the same time and didn't know it," Cathie says. "We got married in 1993 and are still married. It was an interesting coincidence that we found each other."
Cathie is the chief administrative law judge at Texas' State Office of Administrative Hearings.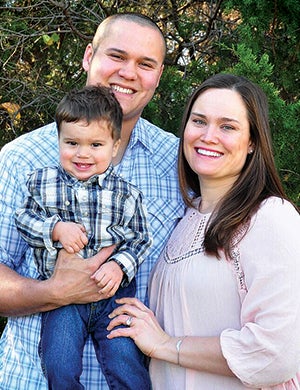 Neither was it love at first sight for 2005 participants Kaelyn McPherson and Benjamin Seth King. Kaelyn was from Blum, a member of HILCO EC and sponsored by Brazos Electric Power Cooperative; and Seth was from Stephenville, sponsored by United Cooperative Services.
"Both of us will agree that it was not like 'Hey, I am going to fall in love with this person,' " Kaelyn says, explaining that she was not impressed when she first saw him tossing a football around a hotel pool.
Each focused on the experience as individuals. For Kaelyn, associating with ambitious teenagers outside of her hometown confirmed that it was normal to have aspirations. For Seth, who wanted to join the military, seeing the Declaration of Independence, war memorials and the Smithsonian National Air and Space Museum reaffirmed his duty to country. The trip was also his first time flying on an airplane.
"My family would never have had the money or the means to take us to Washington, D.C., although I'm sure they would have loved to," Seth says. "So getting to do the trip was huge for me."
Seth and Kaelyn's relationship changed after Youth Tour when the two started texting, talking and going to each other's sporting events as high school juniors. About two years later, they had their first kiss then started dating three months before college. Seth went to the U.S. Military Academy in New York, and Kaelyn went to Texas Woman's University to study nursing. They both graduated in 2011 and got married the same year.
Seth is an Army captain and Apache helicopter pilot who served in Afghanistan. Kaelyn has worked as a nurse and is now a full-time mom to their son, Aden.