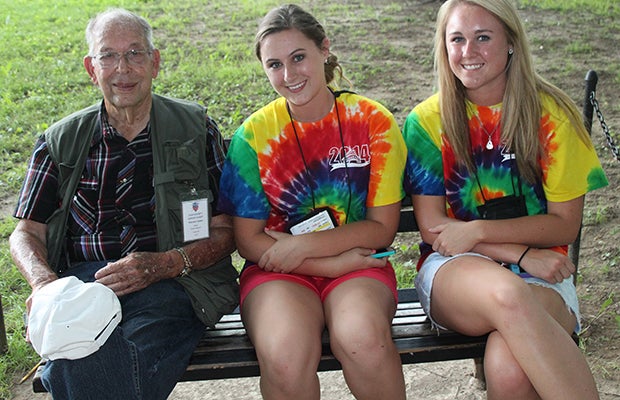 Cassidy Devault, center, and Nicole Rohrbach meet a Korean War veteran at the monument.
Panhandle Students Meet War Vet
By Suzanne Featherston | June 1, 2017
Visitors to the National Mall might stand before a monument and wish that the memorial could talk. 
In a way, the Korean War Veterans Memorial did speak to Cassidy Devault and Nicole Rohrbach during the 2014 Youth Tour. Deaf Smith Electric Cooperative sponsored the two Panhandle teenagers on the trip.
While taking a break in the shade, "an elderly gentleman was sitting next to us on the bench," Rohrbach says, "so we struck up a conversation."
That man was part of a sponsored trip, too. The Korean War veteran was visiting his memorial as a guest of the Honor Flight Network. The three were sitting right in front of the Korean War Veterans Memorial.
'It is just an overwhelming feeling to be sitting here, seeing a memorial that is made for you,' " Devault remembers him saying.
The memorial's 19 stainless steel statues didn't need to speak that day. Devault and Rohrbach met a living memorial who spoke for them.
Says Devault: "It was just so neat to actually talk to someone who went through it."