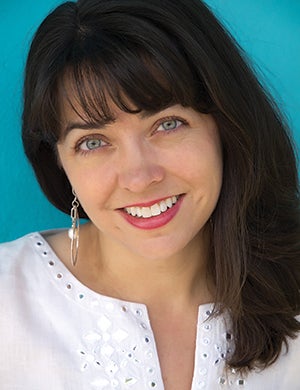 Children's Book Author Fondly Remembers Youth Tour
Nikki Loftin | Pedernales EC, 1989
By Chris Burrows | June 1, 2016
When Nikki Loftin was in high school, she wrote every chance she could. Every scholarship essay that came across her desk was a chance to flex her writing chops and maybe win money for college. So when her parents signed up to receive power from Pedernales EC and another chance to write appeared for the co-op's Youth Tour essay contest, she gave it a shot.
"It was a writing contest about electrical safety, and I actually did research into ground-fault circuit interrupters," Loftin says of the essay that won her a ticket to Washington, "and I had no idea that they even existed before that."
These days, Loftin is still writing nonstop—but now for much larger audiences and with much greater impact. She's an author of books and short fiction for youths, drawing inspiration from her upbringing in rural Hayes County. Loftin's books, translated and read around the world, combine real-life themes and the supernatural.
"They are about kids who are faced with difficulties, whether it's poverty or illness, and how they overcome that with friendship, learning to find their own way or gain the courage to do what needs to be done," she says. "All my books deal with heavier themes, but when you add the magic in, it makes it lighter for young readers."
Loftin has traveled as far away as Japan to speak to students about her books, such as Wish Girl (Razorbill/Penguin, 2015), and is inspired by being able to engage with readers via mail, email and Skype.
"A lot of the questions I get are along the lines of, 'What happened to the characters after [the book ends]?' as if they're real people, which is such a compliment because that means the story became real for them," she says. "It gives me energy to keep going."
Before Loftin's writing earned her the hearts of young readers, it earned her a trip to Washington, D.C., for Youth Tour, a trip that she says changed her life and that she hopes her two sons will consider when they're the right age. Loftin lives near Dripping Springs and is a member of Pedernales EC.
"When you take a group of kids up to a place like Washington, D.C., and just open it all up before them, it's such a significant thing for young people, especially when you're experiencing it with other young people who are open to it," she says. "Anytime that smart, focused and engaged kids can come together and learn about anything, it's going to be good, but this is particularly important."