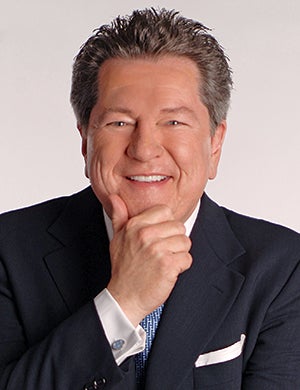 International Designer Credits Youth Tour for "Paradigm Shift"
Bill Stubbs | Wharton County EC, 1969
By Chris Burrows | June 1, 2016
Bill Stubbs has spent decades traversing the globe designing luxury interiors, speaking to crowds and hosting a TV show that aired internationally. Through these experiences, he has become accustomed to meeting new people, learning about new places and traveling long distances.
But he had to start somewhere, and Youth Tour provided him that start—and a spark.  
"It broadened my horizons so much that it really was a fork in the road to the way my life turned out," Stubbs says.
As a youth in Co-op Country, career options at the time seemed limited to Stubbs, whose father, Frank Stubbs, was general manager at Wharton County Electric Cooperative.
"I was not a particularly good student," Stubbs says of his time at El Campo High School, "but I was good at art and things like that. When you're in a small town in Texas, and you're not very good academically, you don't realize that art can become a career."
That outlook started to change on Youth Tour. In addition to visiting the White House and getting to meet U.S. Rep. J.J. Pickle at his Capitol Hill office, Stubbs recalls the "paradigm shift" that the community of other Texas youths and the total experience caused for him.
For college, Stubbs looked beyond the Texas universities that he thought he "was destined" to attend and applied to design schools around the country. He started down the path toward becoming a renowned interior designer when he went to the International Institute of Interior Design, now part of Marymount University, in Arlington, Virginia.
Since Youth Tour, Stubbs hasn't stopped expanding his horizons. His interior design firm, William W. Stubbs & Associates, spearheads projects across the globe. From Kiev to Moscow, London and Hawaii, his design work has earned him a spot among Architectural Digest's list of the 100 top interior designers and architects in the world. His autobiography, I Hate Red, You're Fired! (Harry N. Abrams, 2004), led to speaking engagements and the debut of the internationally syndicated PBS TV series, Moment of Luxury.
Stubbs, who lives in Houston, still is designing and makes regular TV appearances in the Houston area and nationwide. He's earned many accolades during his career, but he still hasn't forgotten the prize of Youth Tour that sparked his identity.
"It just gave me a sense of place, and it encouraged me to go for whatever I wanted to go for," he says. "It broadened my horizon to reach a little bigger and go a little further."